Please click on the Calendar link for more information on Japanese cultural events in Southern Arizona
_____________
Tucson Japanese Language School –  August 2017 to May 2018 schedule  (ongoing)
"Our school starts on Saturday, August 12,2017 and finishes on May 19, 2018.
Classes are Saturdays from 9 am-11 am (50 hours/ year).
Sports Day is on November 4, Kanken(Japan Kanji Aptitude Test) exam is on January 27 and our end of the year show is on May 19 which is open to the public.
Please go to our website for more information
 Thank you,
Hitomi McKnight
Tucson Japanese Language School
at International School of Tucson, 1701 E. Seneca St. Tucson
______
Origami in the Garden at Tucson Botanical Gardens
(2150 N. Alvernon Way), starting
October 9, 2017 to April 1, 2018 (ongoing)
Check website,
www.tucsonbotanical.org
for information –"a display of larger-than-life sculptures incorporating a traditional form of artistic expression surrounded by the beauty of the Gardens.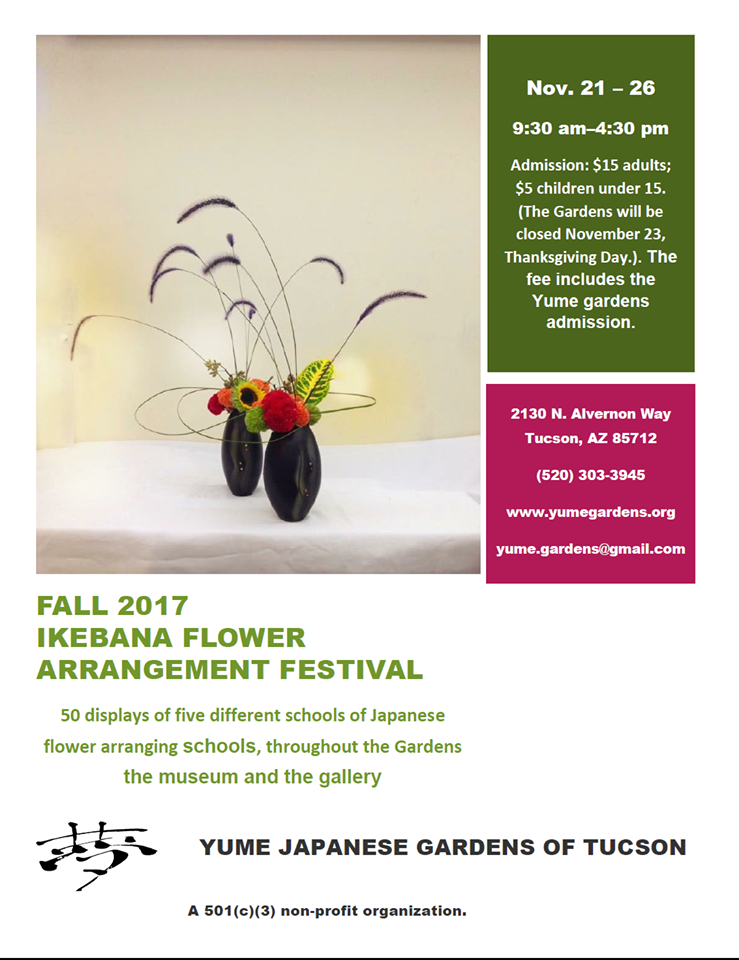 Annual
Ikebana Festival
at Yume Japanese Gardens, 2130 N. Alvernon Way,
Nov. 21 to 26
(except Thanksgving Day Nov. 23):"A series of workshops in Ikebana – traditional Japanese flower arranging and techniques – extends throughout the Fall/Winter season and is complemented by an Ikebana Festival November 21-26. This bi-annual event is one of the most popular at the Gardens and will feature 50 Japanese floral arrangements from five different schools, arrayed throughout the grounds, the museum and the gallery." Ikebana Festival: 50 floral displays by five different schools of Japanese flower arranging, arrayed throughout the grounds, museum, and art gallery. Admission of $15 for adults and $5 for children under 15 includes entrance to the entire Gardens. (The Gardens will be closed November 23, Thanksgiving Day.) or more about activities at Yume, email
yume.gardens@gmail.com
, visit
www.yumegardens.org
, or call (520) 303-3945.
Furoshiki gift wrapping workshop on December 2 at Yume Japanese Gardens
The Japanese have traditionally used squares of fabric called furoshiki to bundle clothes at public baths and carry purchases. They still use furoshiki  to wrap presents and lend gifts a special flair. Just in time for the holidays, you can learn to do the same.
Join our gift-wrapping workshop on December 2, from 10:00 am to 12:00 pm. The class fee is $25, and does not include entry to the Gardens.
Reservations are required by December 1. Notify us at yume.gardens@gmail.com or call (520) 303-3945 to say you'll attend.
_______________________
"Allegiance" musical film returns to Tucson on December 7th to El Con and Park Place theaters, 7:30 p.m.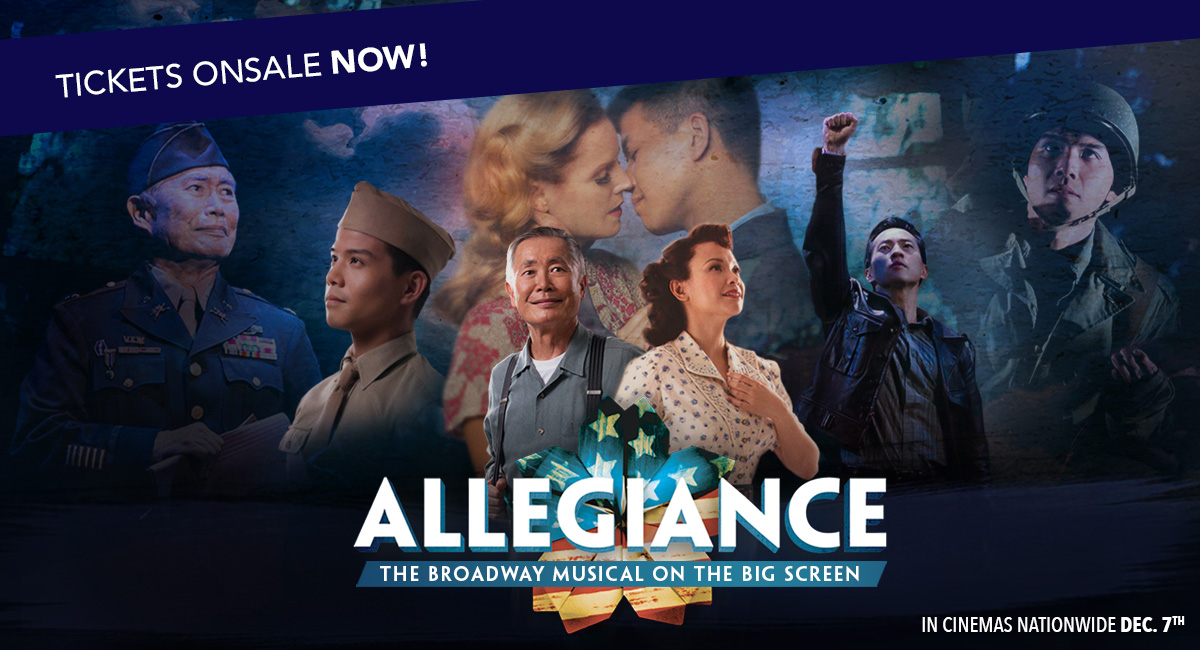 "Allegiance tells the story of one family's extraordinary journey in a troubling time of a nation at war. A mysterious envelope leads Sam Kimura (Takei) back 60 years to a time when he (played as a young man by Telly Leung — Godspell, "Glee") and his sister Kei (Tony Award-winner Lea Salonga–Miss Saigon, Mulan) strive to save their family from the wrongful imprisonment of Japanese Americans during World War II. Sam enlists in the army to prove his family's loyalty, while Kei joins the draft resisters fighting for the rights of their people. Their paths take them from the lush farmlands of California to the wastelands of Wyoming to the battlefields of Europe, and their divided loyalties threaten to tear them apart forever. But as long-lost memories are relived and a new perspective is gained, Sam finds that it is never too late to forgive and experience the redemptive power of love.
Audiences across America and beyond have continued to embrace the power of Allegiance, its story and its score in a way that has surpassed all our expectations," said Allegiance co-creator and producer Lorenzo Thione. "Fans have breathed new life into the show, coming out to movie theaters en masse, and celebrating its importance, and we are thankful for such a passionate following. We will continue to bring Allegiance to fans across the globe and look forward to many more thousand people who will get a chance to see it for the first time this December 7."
Read more at http://allegiancemusical.com/article/allegiance-film-encore/#TDIKqGAaKRgBfBso.99
 Purchase tickets ($16 to $18)  online at:
________