Please click on the Calendar link for more information on Japanese cultural events in Southern Arizona
_____________
Tucson Japanese Language School –  August 2017 to May 2018 schedule  (ongoing)
"Our school starts on Saturday, August 12,2017 and finishes on May 19, 2018.
Classes are Saturdays from 9 am-11 am (50 hours/ year).
Sports Day is on November 4, Kanken(Japan Kanji Aptitude Test) exam is on January 27 and our end of the year show is on May 19 which is open to the public.
Please go to our website for more information
 Thank you,
Hitomi McKnight
Tucson Japanese Language School
at International School of Tucson, 1701 E. Seneca St. Tucson
______
Origami in the Garden at Tucson Botanical Gardens
(2150 N. Alvernon Way), starting
October 9, 2017 to April 1, 2018 (ongoing)
Check website,
www.tucsonbotanical.org
for information –"a display of larger-than-life sculptures incorporating a traditional form of artistic expression surrounded by the beauty of the Gardens.
by JOY MILLS
Tuesday afternoons, 1 – 4pm
C: Jan. 23 and 30
D: Feb. 27 and March 6
E: March 13 and 20
F: April 10 and 24
G: May 15 and 29
This class offers a step–by–step
approach to traditional Japanese Sumi–e
painting. Each class will focus on one
subject—plant, animal, or landscape.
Use of a Bamboo brush expands both
our drawing and painting vocabulary.
Seven basic strokes will be demonstrated
and practiced during each set of classes.
The fluidity of brushstroke developed in
this class can inform and enhance many
various drawing and painting practices.
Fee: each session, $90 (2 sessions)
northwest tucson
Casas Adobes Congregational Church (CACC)
6801 N. Oracle Rd.
West side of Oracle Rd., south of Ina Rd.
 ________________
Hina matsuri Japanese doll exhibit  on display at

Yume Japanese Gardens
, 2130 N. Alvernon Way, from January 30  to March 5, 2018.  www.yumegardens.org. (ongoing)
Girls' Day exhibit at Mini Time Machine Museum of Miniatures, Feb. 1 to March 4, 2018 (ongoing)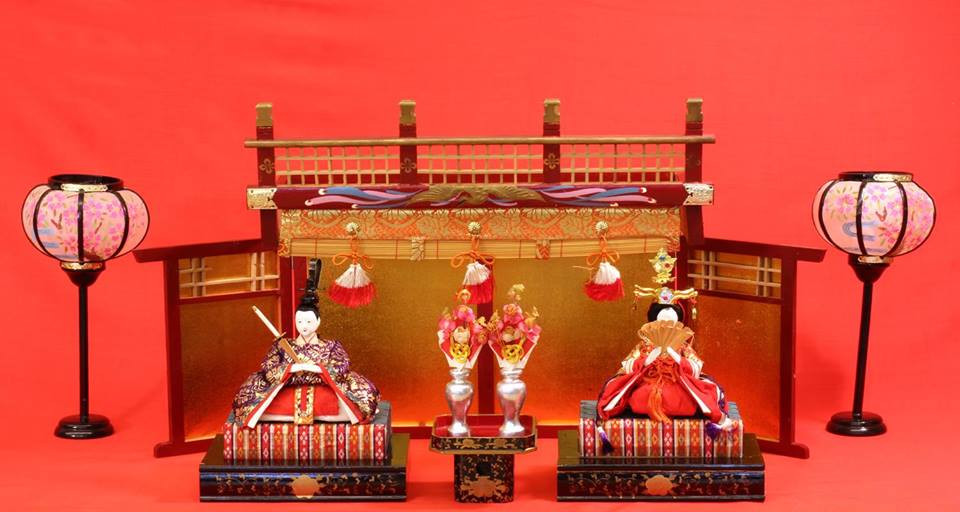 "Hinamatsuri or Girls' Day is an annual holiday in Japan held on March 3rd, which honors the health and well-being of girls. The holiday celebration includes special foods and sweets and the exhibit of a plum tree, flowers and a Hina doll display. The doll display is set up by families in mid-February to rid the girls of bad spirits and to renew and strengthen their character. The custom of erecting a doll display is rooted in a traditional belief that dolls have the power to contain bad spirits. To rid their homes of evil spirits, ancient Japanese people had a ritual called Hinanagashi, in which straw Hina dolls were set afloat on a boat down a river out to sea. In some regions of Japan, people follow this tradition and float the dolls from the Hina display on Girls' Day.
The Hina doll display includes ornamental dolls representing the Emperor, Empress and their court set on a seven-tiered stand covered with a red carpet or cloth. Since Hinamatsuri was first celebrated in the Heian period (10th and 11th centuries) the dolls are dressed in the court garb of that period. The Imperial dolls are placed at the top of the display followed by three tiers featuring particular attendants or musicians. The bottom two tiers are filled with palatial items such as furniture, tools and carriages. Traditionally the Hina doll display is set up in February and disassembled no later than March 4th because it is believed that setting up the display early and clearing it out promptly will bring an early marriage for the girls. Failure to do so could mean a late marriage or no marriage at all.
The Girls' Day Display at The Mini Time Machine Museum of Miniatures is a five-tiered display including 15 dolls and other symbolic accessories. The display dates to the 1950s and was donated to the museum in 2014 by Nancy Phillips."
Mini Time Machine Museum is at 4455 E. Camp Lowell Dr., Tucson: https://theminitimemachine.org/portfolio/girls-day-display/
TUESDAY-SATURDAY: 9AM TO 4PM
SUNDAY: 12PM TO 4PM
CLOSED MONDAYS
AND MAJOR HOLIDAYS
GENERAL: $9.
SENIOR (65 OR OLDER)/MILITARY : $8
YOUTH (AGE 4-17): $6
CHILDREN 3 AND UNDER: FREE

                
_________________
2018 Spring Ikebana Flower Arrangement Festival at Yume Japanese Gardens on Feb. 20 to 28, 2018
Weather permitting, the Gardens are open Sunday from noon to 5:00 pm, and Tuesday through Saturday from 9:30 am to 4:30 pm. We are closed Mondays.
Adults: $9.00
Seniors (65+): $8.00
Students & Military (w/ID): $7.00
Children 3-15: $6.00
Children 2 and under: Free
________________
34th Annual Arizona Matsuri coming up on Feb. 24 and 25 in downtown Phoenix
From Southern Arizona:
–Odaiko Sonora taiko drummers on ASU Stage – Sat. 11:30 a.m.
–AZ Kyudo Kai (archery) on the Monroe Street stage  – Sun. 11:10 a.m.
–Suzuyuki Kai traditional dancers on Plaza Street stage – Sat. 2:45 p.m. and Sun. 2:30 p.m., plus participating in Opening Ceremony dance at 10:35 a.m. on Saturday
Info: https://www.azmatsuri.org/
_____________________
Ukulele master Jake Shimabukuro (Gosei from Honolulu, Hawaii) at the Rialto Theater, 318 E. Congress St. on March 5.  Concert at 8 p.m., doors open at 7 p.m.
Tickets $28 to $37 at: https://www.ticketfly.com/purchase/event/1567090?utm_medium=ampOfficialEvent&utm_source=fbTfly
_________________
The Art of Zen Brush Calligraphy workshop at Yume Japanese Gardens on March 10 and 11