Please click on the Calendar link for more information on Japanese cultural events in Southern Arizona
_____________
Tucson Japanese Language School –  August 2017 to May 2018 schedule  (ongoing)
"Our school starts on Saturday, August 12,2017 and finishes on May 19, 2018.
Classes are Saturdays from 9 am-11 am (50 hours/ year).
Sports Day is on November 4, Kanken(Japan Kanji Aptitude Test) exam is on January 27 and our end of the year show is on May 19 which is open to the public.
Please go to our website for more information
I put up 2017-2018 calendar  as an attachment."
 Thank you,
Hitomi McKnight
Tucson Japanese Language School
at International School of Tucson, 1701 E. Seneca St. Tucson
______
"Kozo Miyoshi: Middle of the Road" Public Lecture on September 17 at UA Center for Creative Photography
"On Sunday, September 17 (4 to 5:30 p.m.), the Center will present a public artist's talk by Japanese photographer Kōzō Miyoshi, in conjunction with Longer Ways to Go: Photographs of the American Road, an exhibition of photographs from the Center's collection currently on view in the Norton Family Photography Gallery at Phoenix Art Museum. During the 1990s, while he was an artist-in-residence at the Center for Creative Photography in Tucson, Miyoshi traversed what remains of Route 66, the "Main Street of America," creating placid, meticulously composed images with an 8 x 10 view camera. Miyoshi chose the title "Middle of the Road" to refer to his habit of standing dead-center in the road to make a photograph with his tripod-mounted camera, a gesture that reveals signs of past use in the form of tire marks, seams, and cracked pavement, while reminding us that, at least at the moment Miyoshi took the picture, no one was coming. Made soon after Route 66 was removed from the federal highway system, when local preservation efforts were just getting under way, Miyoshi's images form a compelling document of the landmark's transition from highway to scenic byway, from America to Americana.
Member's Print Viewing & Reception From 2-4 pm the Center will host a Member's only Print Viewing & Reception in collaboration with the Kōzō Miyoshi public presentation. ***
Kōzō Miyoshi is a Japanese photographer whose work is in the collections of The Art Museum, Princeton University; The Center for Creative Photography, University of Arizona; The George Eastman Museum; The Museum of Fine Arts, Houston; The National Museum of Modern Art, Tokyo; Hallmark Collection, Kansas City, Missouri; Nihon University, Tokyo; and Tokyo Photographic Art Museum. The Center for Creative Photography published Far East and Southwest: The Photography of Kōzō Miyoshi in 1994. In the Road, a collection of Miyoshi's photographs of Route 66, was published by Nazraeli Press in 1999. In 2011, Miyoshi released Northeast Earthquake Disaster Tsunami 2011, a portfolio of photographs of the aftermath of the 2011 quake and tsunami that devastated Japan's northeast coast and caused the Fukushima Daiichi nuclear disaster. A selection of photographs from the portfolio was included in In the Wake: Japanese Photographers Respond to 3/11, a 2015 exhibition at the Museum of Fine Arts, Boston."
_________
Odaiko Sonora celebrating 15th Anniversary at Rogue Theatre on October 7, 2017
______________
38th Annual So. AZ Koi Show at Oro Valley Markeplace on Nov. 11 to 12, 2017
_________
Annual
Ikebana Festival
at Yume Japanese Gardens, 2130 N. Alvernon Way,
Nov. 21 to 26
(except Thanksgving Day Nov. 23):"A series of workshops in Ikebana – traditional Japanese flower arranging and techniques – extends throughout the Fall/Winter season and is complemented by an Ikebana Festival November 21-26. This bi-annual event is one of the most popular at the Gardens and will feature 50 Japanese floral arrangements from five different schools, arrayed throughout the grounds, the museum and the gallery." Ikebana Festival: 50 floral displays by five different schools of Japanese flower arranging, arrayed throughout the grounds, museum, and art gallery. Admission of $15 for adults and $5 for children under 15 includes entrance to the entire Gardens. (The Gardens will be closed November 23, Thanksgiving Day.) or more about activities at Yume, email
yume.gardens@gmail.com
, visit
www.yumegardens.org
, or call (520) 303-3945.
_____
"Allegiance" musical film returns to Tucson on December 7th to El Con and Park Place theaters, 7:30 p.m.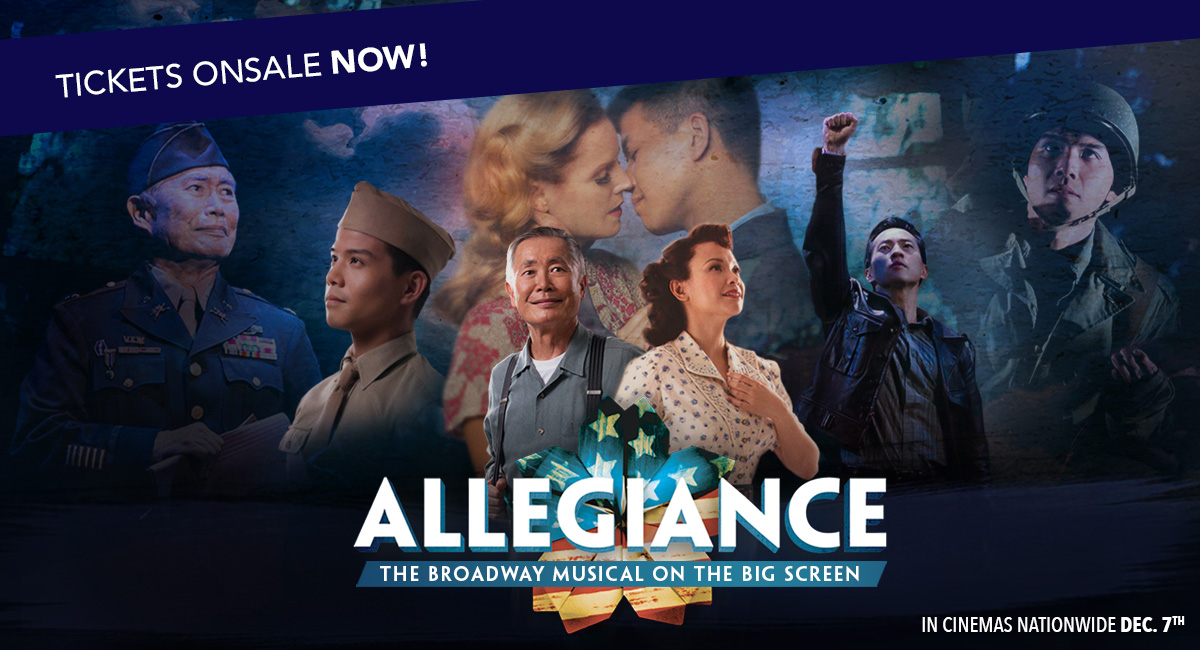 "Allegiance tells the story of one family's extraordinary journey in a troubling time of a nation at war. A mysterious envelope leads Sam Kimura (Takei) back 60 years to a time when he (played as a young man by Telly Leung — Godspell, "Glee") and his sister Kei (Tony Award-winner Lea Salonga–Miss Saigon, Mulan) strive to save their family from the wrongful imprisonment of Japanese Americans during World War II. Sam enlists in the army to prove his family's loyalty, while Kei joins the draft resisters fighting for the rights of their people. Their paths take them from the lush farmlands of California to the wastelands of Wyoming to the battlefields of Europe, and their divided loyalties threaten to tear them apart forever. But as long-lost memories are relived and a new perspective is gained, Sam finds that it is never too late to forgive and experience the redemptive power of love.
Audiences across America and beyond have continued to embrace the power of Allegiance, its story and its score in a way that has surpassed all our expectations," said Allegiance co-creator and producer Lorenzo Thione. "Fans have breathed new life into the show, coming out to movie theaters en masse, and celebrating its importance, and we are thankful for such a passionate following. We will continue to bring Allegiance to fans across the globe and look forward to many more thousand people who will get a chance to see it for the first time this December 7."
Read more at http://allegiancemusical.com/article/allegiance-film-encore/#TDIKqGAaKRgBfBso.99
 Purchase tickets ($16 to $18)  online at:
________